A CRAZY IDEA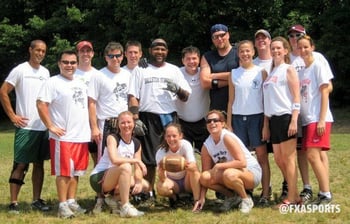 Every day, people look around and think, "I wish someone would do 'X' that no one is doing right now -- I would totally support that!" In 2007, I had that very thought when I got tired of driving an hour or more from where I was living in Reston to play co-ed flag football. Why weren't there more options for adults to be active and social through sports in Northern Virginia? I pulled some friends together to help me, and that fall we launched Fairfax Athletics' inaugural season of flag football and softball. And, thanks to all of our amazing players who come back season after season -- even trying new sports as we offer them -- we've steadily grown and added new sports each year.
Looking back, I never would've thought that 13 years later FXA Sports would have grown into what we are today. In 2019, we offered 16 different sports for adults all throughout the DMV area! My dream for FXA Sports is to provide the community where you create and enjoy memorable experiences, both through sports and social interactions. We'll continue to look for new and exciting ways to offer that -- we launched esports this year, and continue to look into new ways to provide an active outlet for everyone of all ability levels to enjoy being out and meeting new friends.

WHY ARE WE HERE?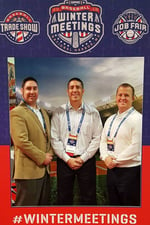 My team has been on me to start this blog for a while (they'll tell you exactly how long if you ask them), and we're excited to share information, tips, highlights and more that are relevant to you, our players. Looking for that great new lunch spot, or 5 Easy Ways to Run Better Routes, or the 3 Best Strategies to Score More Runs? We've got you covered.

We have so many talented people in our community: small business owners, coaches and trainers of every variety, and subject-matter experts in all sorts of disciplines. Our goal with this blog is to share their stories, highlight their knowledge, and continue to build this amazing community of FXA Sports.
POST-COVID PLAN
In the coming weeks, we'll be sharing our short and medium-term plans for how we're going to get back to something that at least starts to look like "normal" after we've all been social distancing these last few months. Along with everyone else, we're still figuring out what that looks like, and we'll do our very best to be transparent about our plans. Based on the current information we have from Fairfax County, the Virginia Department of Health, and other national agencies, we are planning to resume play in June. We'll be taking lots of extra precautions (more on that in our next article); our players' safety will always be the most important thing to us, and we'll be aggressive in those measures, and measured in what, how and when we resume.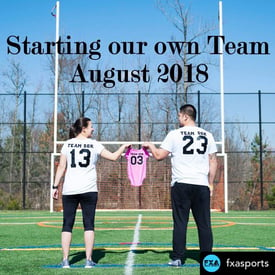 Our team has remained small over the years, part of our commitment to offering the best value possible, but we've got big dreams for having a big impact. We want to be the place that creates great friendships when you move to the area for the first time, or find a new love for a sport or activity. We've seen countless lifelong friendships, weddings and children (even now parents and their kids on the same team!) come out of time spent in our leagues. I hope you enjoy the content we have for you in this blog, and that it shows you just how great our FXA Sports community is, and all the great people like you that are part of it.
- Jeremy-
Visit our Coronavirus page for the latest updates on start dates.